"…she looked at me with a smile and said "your head is spinning isn't it". I said surprisingly not, on the contrary I feel a weird feeling like I am at the starting path to clarity. Victoria, your ability to put things into perspective in a simple, articulate way was fabulous." – a conversation a client had after his powerful astrology reading
Astrology can reveal the meaning behind who we are. It can tell us what talents and skills we have to work with and identify limitations and areas of growth. It can potentially be used as a tool to empower and support self, allow choices and shift consciousness, revealing the soul's purpose over a lifetime. 
Understanding your birth chart is much more than just knowing your star sign. By looking into the position of other signs and planets at the time of your birth, you can unlock information about yourself that may be the key to success and fulfillment.
At Who Am I Astrology, Victoria can unlock your birth chart to help you gain insights and form a holistic opinion about soul and self. Astrology can be used as a diagnostic tool, utilised throughout one's life, to nurture strengths, assist with challenges and create a framework of guidance.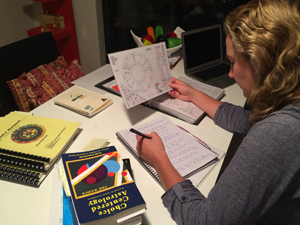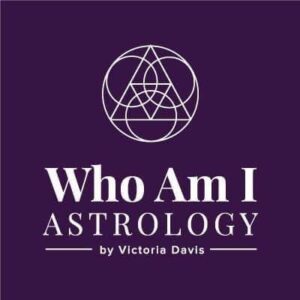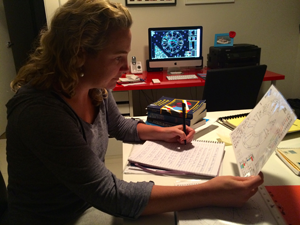 About Victoria, Founder of "Who Am I Astrology"
Victoria is a Consulting Astrologer from Australia. She became interested in Astrology from a very young age, after reading Linda Goodman's 'Sun Signs'. The descriptions, humour and truth she found in Linda Goodman's writing, inspired her creative Leo side and pique her Neptunian imagination.
Over the years, Victoria pursued her interests in Astrology and began formal studies in 2010. These studies are on-going, particularly around improved predictive techniques.
Victoria was interviewed for an astrology piece on "The Project", a popular Australian current affairs program, as the Consulting Astrologer (aired 11 January 2017)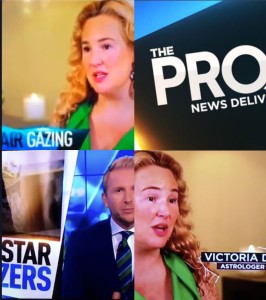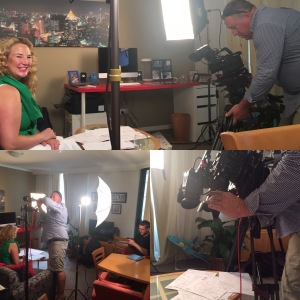 Behind the scenes for filming on 'The Project'
"I find Astrology to be a helpful way of understanding my strengths and challenges, as well as recognising why people behave or react in certain ways around me. The movements of the Sun, Moon and all the planets can evoke very specific reactions to specific areas of your life."

Victoria specialises in the 12 zodiac signs, and identifying your hereditary astrology. Mercury in Retrograde, particularly in the workplace is also a passion. Victoria practices Free Will/Person-Centred (psychological) Astrology.
"Astrology is not about fate, it is about guidance. It is about being constructive, not symptomatic. I started offering readings because I love helping people understand themselves better and I enjoy offering insights into the whys and hows of their lives."
"Utilising and tapping into an individuals birth chart is much more useful than just what the Sunday paper paragraph has to say on your star sign. I want people to understand that they are not just their 'sun sign' or 'star sign', that they are so much more. Often people don't relate to those paragraphs and that is because behind the scenes in their charts, they are a completely different Honorary Sign or have exceptional planetary positions, that are characteristic only of them. I want to unlock those things and so much more."
Who Am I Astrology can provide in-depth, customised astrology readings for those who want to delve deeper into their self-awareness.  Victoria can also work with you, to create the most personalised gift or that special decoration for your own home, with her customised Chart Frames.
"The more readings I performed, the more requests I received for framing. A customised, framed astrology chart is an exceptionally personalised present. A unique gift, for yourself or for someone special. It allows you to see the position of all the planets at the time of your birth, making each framed chart exclusive and memorable"
Learn more about your personalised Astrology Reading and custom made Framed Astrology Charts here