What is involved in an Astrology Reading?
Astrology Reading Birth Chart Consultation and 12 month Predictive Report $180AUD / 4000THB (deposit required)
Firstly, I will need you to provide some details about yourself:
Date of Birth
Time of Birth – if you don't know exactly, ask your mum, dad, sibling or family member. An exact time is preferred but I can also work with an estimated time like around 2.30pm or around 10am. If no one knows your time of birth, we will need to work together to find a birth time.
Place of Birth – this is the town, city or suburb, and then country you were born in. If you are born in a small or remote town, please also provide me with the next largest town. Most places will be found and calculated, occasionally though I may need a larger town. For example if you are born in Nimbin, the next largest town is Byron Bay.
Example: Victoria Davis born 12 August 1979 at 9am in East Melbourne Australia
After I have these details, I will do some preliminary work. This involves me calculating your chart from the information above. The chart will look like this: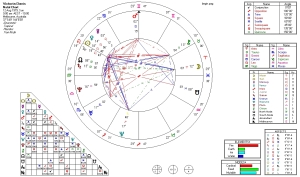 I will also ask if you have any specific areas that you would like me to focus on. I will make lots of notes for myself and do some cross-referencing to ensure the information that I see in the chart is as accurate as possible. Preparation time prior to your consultations is between 3-5 hours and is included in my fee.
We will then have the reading and consultation. I can schedule it to be face to face or via video call (Zoom, FaceTime, Skype, Messenger, WhatsApp). The consultation usually takes around 2-3 hours.
We will talk about what I have discovered about you, I will ask you lots of questions and you will be able to ask me as many questions as you like. I will talk about your strengths, where you excel and achieve in life, and I will also talk about any challenges or areas for improvement. I may provide some advice such as suggesting certain books to read, activities you may want to utilise or it may be as simple as advising you what your honorary sign is. All of this creates a framework for understanding yourself better and gaining insight into who you are. We will also discuss what is coming up astrologically in the next 12 months.
After our chat, I will email you a summary of the key points we discussed, plus a 12 month timeline of keys dates for you to reference into the future. You will also receive a copy of your calculated chart.
Please note; this is not a psychic or clairvoyant reading. I do not claim to have those talents. My skills as an astrologer mean I report on what I see in your personal chart, which is scientifically calculated by the position and degrees of the known planets in our solar system. I practise Free-Will Astrology, which means anything I tell you, it is entirely up to you to agree with, work with or use – or not. This is your free-will.
I will always keep my readings positive and will never give you 'bad news'. That is not what my astrology readings are about. My goal is to give you an additional tool to form a holistic idea about yourself and your life.
Your reading is entirely personal and confidential and I am bound by ethics to not do any in-depth analysis about anyone else without their knowledge or permission. We can speak about other important people in your life but only in relation to you and your journey.
"I find astrology really helpful for cementing what I already know about myself and also for learning more about myself and how I can navigate my life to ensure my upmost fulfilment" – feedback from regular client
Astrology is all about timing, therefore knowledge is power – knowing when the timing is best for making certain decisions or advantageous timing for implementing action plans, can be most helpful.
All information is calculated and prepared personally for you. You'll be amazed how individual it is and how accurate.
What was most beneficial about your astrology reading?
"Reaffirming what the core values of me were.  Having felt very lost and unsure of who I am in recent times, this gave me the confidence to move forward and listen to my intuition.  An empowering change of gears." – Belinda
Astrology Reading Birth Chart Consultation and 12 month Predictive Report $180AUD / 4000THB (deposit required)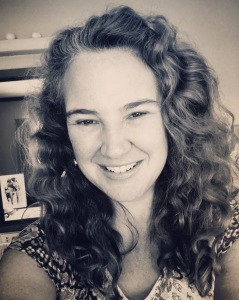 Click picture to contact me…